Disney California Adventure Food and Wine Festival March 10-April 16, 2017
Para leer en español por favor mire abajo.
The Disney California Adventure Food & Wine Festival kicks off spring with amazing food, beverages, favorite celebrity chefs and hundreds of culinary events and flavors March 10 - April 16, 2017 at Disney California Adventure Park.
To showcase the upcoming festival, members of the Disneyland PR team along with Disneyland Chefs and Disneyland Ambassador Alexa Garcia came to Northern California with a surprise guest. I was invited to their sneak peek of the Junior Chef experience at beautiful Jack London Square in Oakland where I met the team and Disneyland Resort's very own celebrity chef - Chef Goofy.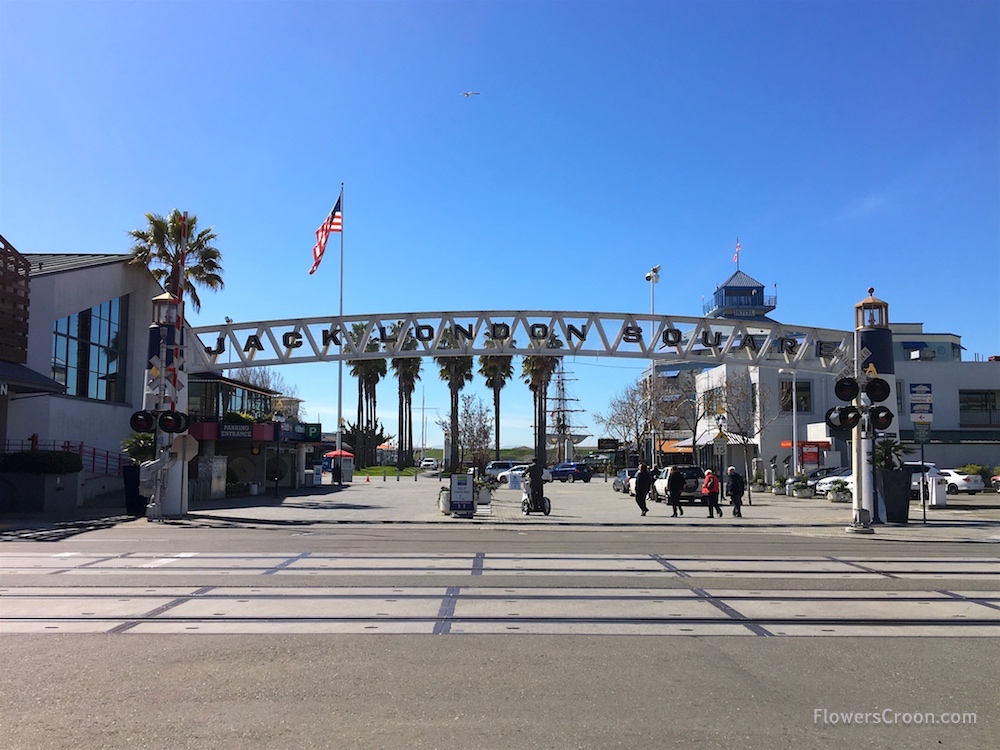 I was able to speak to Chef Moe, a Cast Member for 35 years, about the food and beverages he is most excited about this year.
Chef Moe expressed how exciting it is to assist with the food and menus in the kiosks. He also discussed how much he loves working with all the chefs throughout the resort during this event. The flavors of California are inspired by the wonderful cultures of our state, and one of his favorite dishes that demonstrates those cultures is the Jackfruit Carnitas Banh Mi Nachos with cilantro crèma and "pickled" de gallo.
A vegetarian dish he described as "nachos with an Asian kick and Latin flavor", the jackfuit nachos will satisfy any meat-eater with its seared jackfruit. Chef Moe explained that much like how a portobello mushroom mimics meat in a veggie burger, the seared jackfruit mimics carnitas in this recipe. The crema features sour cream and the "pickled" de gallo (inspired by banh mi) features minced jalapeño. And what should we wash all that deliciousness down with, I asked? Why craft beer, of course! Chef Moe said the craft beers are varied and plenty and available by the glass and in flights.
The kids cooking demonstration featured a healthy recipe that utilized applesauce instead of sugar. Chef Moe started off the event by reminding kids of the most important step we should take before cooking: washing our hands! With his instruction, the teams of chefs of kids magically prepared delicious cookies in just a few minutes. (Pixie dust is real!)
Check out this quick video of the event:
All of the chefs were amazing with the kids and so great to talk to. Chef David, who has been with Carthay Circle since it opened, even took the time to answer my questions about why the deviled eggs were taken off the menu. (The answer is simply because the menu changes seasonally - not because I was the only one ordering them as I mistakenly thought. Ha!) Chef Moe also chatted with me about the menu update at Award Wieners, which I need to experience ASAP!
The Junior Chef Experience, a complimentary cooking demo led by Chef Goofy, is just one of the many demonstrations and seminars available at the Disney California Adventure Food & Wine Festival. With over a dozen Festival Marketplaces serving delicious food inspired by our beautiful state PLUS music, crafts, beer, wine and spirits - there is something for everyone to enjoy during the festival.
Other events include Signature Events (ticketed at an additional fee) such as:
"In the Kitchen with …" – 60-minute culinary celeb chef demo and Q&A followed by an autograph session. The experience includes a tasting of some of the prepared dishes.
Sweet Sundays – A 90-minute culinary demo where following a light breakfast and a sparkling toast, the Guest Chef for that day will demonstrate up to three recipes. Guests will enjoy samples from the chefs.
Winemaker Dinners and Brewmaster Dinners – A four-course dinner features wines and winemakers or beers and brewmasters.
Culinary Demonstrations (presented daily throughout the Festival) – 30-minute culinary demos presented by local, visiting and Disney chefs. ]
Wine, Beer or Spirits Education and Tasting Seminars (presented daily throughout the Festival) – 30 - 45 minute beverage seminars presented by industry experts will enlighten guests who want to learn more about their favorite spirits.
Who are the celebrity chefs? Some of our favorites, including an Iron Chef: Guy Fieri, Robert Irvine, Cat Cora, Duff Goldman, Emily Ellyn and Keegan Gerhard.
I can't wait to try all the great food! What are you most excited to experience at the Disney California Adventure Food & Wine Festival?
Disney California Adventure Food and Wine Festival March 10-April 16, 2017
La primavera comienza con el Disney California Adventure Food & Wine Festival que tendra increíble comida, bebidas, chefs famosos y cientos de sabores y eventos culinarios del 10 de marzo al 16 de abril de 2017 en Disney California Adventure Park.
Para mostrar el festival, los miembros del equipo de relaciones públicas de Disneyland junto con Disneyland Chefs y la embajadora de Disneyland Alexa García llegaron adonde vivo yo en el Bay Area de California con un invitado sorpresa. Me invitaron a la demostración de la experiencia Junior Chef en Jack London Square en Oakland donde conoci al equipo y el chef mas famoso de Disneyland - Chef Goofy.
Hable con Chef Moe, un Cast Member de Disney por 35 años, sobre la comida y las bebidas que más le excita este año.
Chef Moe expresó lo emocionante que es ayudar con la comida y menús en los quioscos. También habló de lo mucho que le encanta trabajar con todos los chefs durante el festival. Los sabores de California están inspirados en las bonitas culturas de nuestro estado, y uno de sus platos favoritos que demuestra dos de esas culturas es el Jackfruit carnitas banh mi nachos con cilantro crèma y "pickled" de gallo. Suena super rico!
Un plato vegetariano que él describió como "nachos with an Asian kick and Latin flavor", los nachos jackfuit satisfará cualquier carnívoro porque el jackfruit tiene textura como carne. Chef Moe explicó que asi como hongos portobello imita la carne en una hamburguesa vegetariana, el jackfruit imita carnitas en esta receta. La crema tiene sour cream y el "pickled" de gallo (inspirado por banh mi) se hace con jalapeño picados. ¿Y qué debemos beber con todo ese sabor, pregunté yo? Cerveza artesanal, por supuesto me dijo Chef Moe! El dijo que hay muchas cervezas artesanales. Se pueden comprar por la copa o en flights - que son tamaños de muestra.
En el demostración Chef Moe presentó una receta saludable que utiliza applesauce en lugar de azúcar. Chef Moe comenzó el evento recordando le a los niños que necesitamos lavarnos las manos antes de cocinar. Con su instrucción, y mucho Pixie Dust, ellos hicieron deliciosas Oatmeal Cookies en sólo unos minutos.
Todos los chefs fueron increíbles con los niños y fue chevere hablar con ellos. Chef David, que ha estado con Carthay Circle desde que abrió, tomó el tiempo para responder a mis preguntas sobre por qué los deviled eggs no estan en el menú. (La respuesta es simplemente porque el menú cambia cada temporada - no porque yo era la única ordenándolos como pense. Ja ja!) Chef Moe también hablo conmigo sobre los cambios en el menú de Award Wieners. Necesito probarlo todo ahora mismo!
La experiencia Junior Chef, una demostración de cocina gratuita liderada por el Chef Goofy, es una de las muchas demostraciones y seminarios en el Disney California Adventure Food & Wine Festival. Con más de una docena de Mercados del Festival o Festival Marketplaces que sirven deliciosa comida inspirada por nuestro hermoso estado, y tambien música, artesanías, cerveza, vino y licores - hay algo para que toda la familia disfruten.
Los visitantes que deseen incluir los Eventos Exclusivos o Signature Events podrán obtener boletos específicos para el evento a un precio adicional. Esta es la lista de tales eventos:
"In the Kitchen with …" – Cada chef famoso liderará una demostración gastronómica de 60 minutos de duración, seguida de una sesión de preguntas y respuestas y firma de autógrafos. La experiencia incluye también un paladeo de algunos de los platos preparados.
Sweet Sundays – Una demostración culinaria de 90 minutos centrada en el sabor más dulce de las artes gastronómicas. El Chef de Honor, tras un desayuno ligero y un brindis, preparará hasta un máximo de tres recetas. Los visitantes podrán saborear los resultados a lo largo de la duración del evento.
Winemaker Dinners and Brewmaster Dinners – Una cena donde se servirán cuatro platos acompañados por vinos y sus enólogos, o cervezas y sus maestros cerveceros. La selección de vinos o cervezas irá ligada a los platos preparados por el Equipo Chef Ejecutivo de Disney, y cada enólogo o maestro cervecero conversará acerca de la libación y el por qué del maridaje.

¿Quiénes son los chefs famosos? Algunos de nuestros favoritos, incluyendo un Iron Chef: Guy Fieri, Robert Irvine, Cat Cora, Duff Goldman, Emily Ellyn y Keegan Gerhard.
Quiero probar toda la comida! ¿Qué quieres probar primero en el Disney California Adventure Food & Wine Festival?