The 408K 2015 Race Recap
As a runner, there is always that one race you look forward to because it's so fun, so close to home, so close to friends and family and so very close to good food, shopping and booze post-race. Then there's that race that haunts you because you've never been able to finish in your goal time no matter how many times you've tried. The San Jose 408K Race to the Row is that race for me. My favorite local good time, good cause race and the PR I've been chasing for years. Yesterday I ran my 4th 408K and finally reached my goal!
Packet pick-up the day before the race was easy. I was able to get my bib and my race shirt quickly and went on to do a little shopping. My daughter was on the hunt for a nice interview suit, and I was looking forward to lunch at Pasta Pomodoro since 20% of our total bill would be donated to the Pat Tillman Foundation.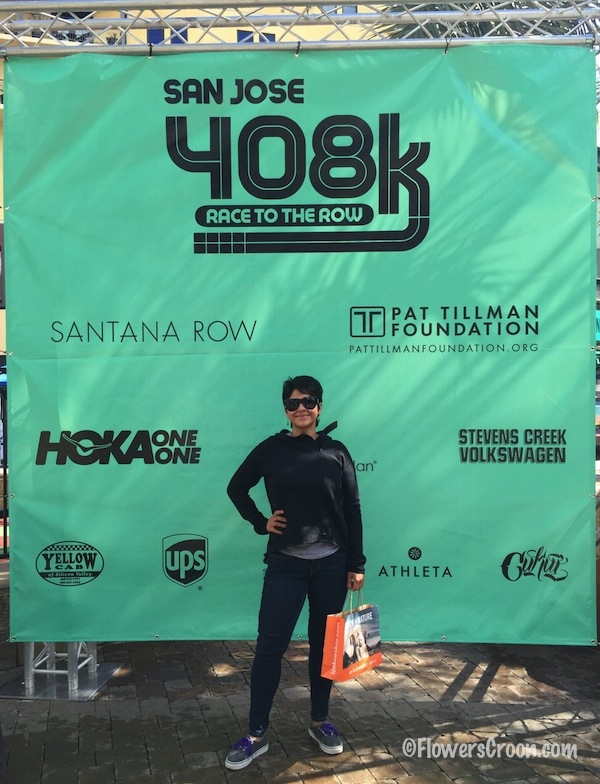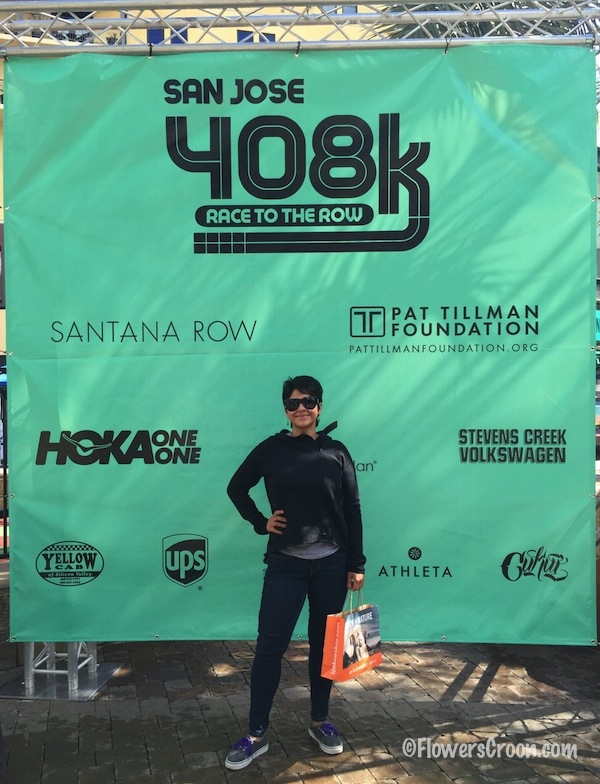 On race morning, I left my car at Santana Row and waited for Emelia of HalfCrazyMama to swing by and grab me on her way to the start line. She was very sweet to do that! As I waited for her I was really surprised by the number of runners that were actually running to the start line - which is about a 5K distance if you choose a straight path. Not a bad idea if you feel like you need the extra exercise or are just really, really into running down San Carlos Street at 6:30 am.
Once at the start line we met with my friend Lianna and had fun warming up. My goal was really simple: finish in under an hour. I knew I could do it, but I just wasn't "feeling it". It seems like there is always something going on at home that is outside of my control anytime I have a race, and It always screws with my head.
Since we were in the second wave, we started 10 minutes into the race. I was surprised by how many runners there were. The race has definitely grown since the first year. That's awesome to see.
My favorite part of the course was The Memorial Mile. As some of you local folks may recall, last year when we ran through this beautiful Rose Garden neighborhood - a very special man cheered us on. 95 year-old Word War II veteran, Mr. Joe Bell, dressed in full uniform and sat outside his home clapping for us. An entire section of this year's course was dedicated to him - and all veterans - after his passing last year.
It was humbling to see so many Veterans came out early in the morning to cheer us on.
We salute YOU and thank you for your service!
The final mile of this awesome race is always the Mariachi Mile, and this year's entertainment did not disappoint.
Just as the sun was coming up and becoming a little annoying, we rounded the corner back onto Stevens Creek Boulevard and reached the finish line at Santana Row. After a walk through the finish chute, we finally got those precious medals.
I had a blast running with Emelia! So far I've run all of my races this year with her. I might have to keep this up. She's fun and we have a lot of things in common - including our love of Disney and our girls.
Somewhere along the way - I met another Chapulín Colorado fan. Sweet!
I also ran into my sweet friend and former co-worker, Laura. This was her first time running the 408K and she rocked it!! I love seeing her at all the local races and can't wait to run with her at the Disneyland Half later this year!
My race time did not suck. It wasn't fabulous, but I did reach my goal of finishing in under an hour. I have run longer distances faster than this, so I am still trying to figure out what the science is behind my issues, but until then - free mimosas at Misora hit the spot.
The mimosas were chased by truffle fries and a burger at the Yard House with my friend Lianna. Because rungry happens.
If you ran the 408K this year I'd love to hear your feedback! Also, you might as well save 10% on registration fees for the next Run the Bay Races: the Across the Bay 12K and 5K by using code RUNTHEBAY-JL at registration. See you across the bay!