Inaugural Infinity Gauntlet Challenge Race Recap Part 2: Avengers Half Marathon
After the Captain America 10K, I spent the rest of the entire day at Disneyland and Disney California Adventure soaking in Christmas, enjoying dinner and the parks with a friend and dancing along to the ¡Viva Navidad! celebration. I even sat in on a few sets at the Royal Swing Big Band Ball. After all that fun I made it back to the hotel early enough to catch the fireworks from my room just before going to bed.
When I woke up a few hours later my legs were stiff. I couldn't bend my knees easily, but I figured it was because I was tired from the previous day or just plain sore. I put on my Hulk kit and made my way downstairs to meet my new friend B and walk over to the start line.
B and I met up with my friend Emelia, then patiently waited in Corral C for the race to begin.
I was not a huge fan of last year's course and hadn't bothered to check to see if it had changed this year. Well, it had indeed changed. This was going to be interesting. No Santa Ana winds, but we'd still be running along the bike trail towards Angel Stadium - my least favorite stretch of this course and the Disneyland Half course.
We were inside Disney California Adventure almost immediately. B was interested in seeing her favorite super hero Captain America. I was down to stop for a photo with him and Hawkeye again, and perfectly happy bypassing the other characters on this day.
First stop right outside of Carthay Circle: Hawkeye!
As we exited Disney California Adventure I saw something I had never seen before - spectators! I can't even begin to tell you how happy this made me! Kudos to runDisney for arranging access to those who wanted to chEAR us on!
We ran into Disneyland via the Esplanade and headed towards Frontierland where visited with Captain America. Side note: This is the very same Captain America B met years ago on the Disney Cruise Line. Once the Captain, always the Captain.
We ran from Frontierland to Fantasyland and into Tomorrowland, where we took a restroom break. At this point, with the slow running and multiple stops, we were 39 minutes into the race and only at mile 2. But that didn't stop me from taking a Star Wars Launch Bay photo.
As we made our way out of Disneyland we realized we never ran through the castle and didn't get a castle shot, so we stopped on Main Street U.S.A. and took a photo in front of the train station.
All smiles above, right? Well, this is where it gets ugly. Somewhere between miles 2 and 3 - most likely on the way out of Disneyland, I hurt my right knee. That's the one knee that wasn't in bad shape before I got here. I think it happened just before mile 3 as I zig-zagged my way somewhere around here:
By the time I reached the mile 3 marker on Harbor I was done. My knee hurt. Horribly. I didn't feel anything "happen" other than sudden pain. Pain so bad that I could not pound on it any longer. What was I going to do? I still had 10 miles to go!
I kept trying to stick to a walk/run because I was too embarrassed to admit I was in pain, but by mile 4 I had to stop. Game over. I didn't think I could finish in the allotted time and although I refused to quit, I didn't want to get swept.
At that point I told B to please run on without me because I refused to hold her back. I told her I was scared I might not be able to finish and that I didn't want her to get swept with me. Her response, "Girl, do I need to slap you?!" We had only known each other for about 24 hours but I already loved her.
"You need Biofreeze. Stop running, keep your walking pace where it is right now and you'll be fine." Onward we walked, searching for this Biofreeze I'd only heard of but had never used, talking and laughing the whole time. B is my friend Kristin's sister. It was such an interesting twist of fate that we both ended up running this race and randomly meeting each other at our Hilton Starbucks the morning after the 10K. Yes, we were actually both in the same hotel too. She was here from Alabama for a work conference and decided to run the Infinity Guantlet Challenge and was dreading running alone. I was just dreading the whole thing. Fate - and Kristin - brought us together and I couldn't be more thankful.
We continued walking at a 14:00 - 14:20 pace for a few miles until we reached a medical tent. It was there that we were told runDisney did not have Biofreeze on this course. We were floored! Since when does runDisney not have Biofreeze on the course? There was nothing I could do but keep moving.
Somewhere before mile 8, the course (which had consisted of the trail for a few miles) came to life with the awesome cosplayers. I was happy to see a couple of beautiful She-Hulks as well as a super impressive Loki!
As we ran towards Angel Stadium, B asked a group of Jeff Galloway runners stationed in the parking lot if they had Biofreeze. The answer was YES! They sprayed my knees down and I prayed that this stuff would help numb my pain so I could get through the next 4 miles.
As we entered the stadium we stopped for photos and to listen to the band.
Then off we went again. As we exited the stadium we were greeted by more cosplayers, military personnel, a World War II re-enactor group, cheerleaders and music. Pretty sweet crowd!
At this point the Biofreeze had kinda kicked in and I could feel the difference. I was still in pain but I was NOT going to pass up a quick dance with this handsome gent. The swing dance stage was by far my most favorite thing about the Avengers Half Marathon. So cool!
At around mile 10.5 we encountered medical personnel on bikes and asked them for Biofreeze. I was stoked to find out they were carrying it in their backpacks. After coating both my knees in Biofreeze we continued our walk to the finish line. It was getting much harder for me to stay at the 14:30 pace and I was worried again. By the time we reached the Toy Story parking lot portion of the course I had physically and mentally checked out. I wanted to stay on Convention Way and head straight to my bed inside the Hilton.
My hips and my back were on fire. Because my knees hurt so badly I'd been using this foreign gait from outer space that my body didn't appreciate. I was hating every step, but then I saw the finish chute and I knew it would soon be over. Just before crossing the finish line I stopped to take a selfie with Black Widow and Captain America. The Thor photobomb was priceless!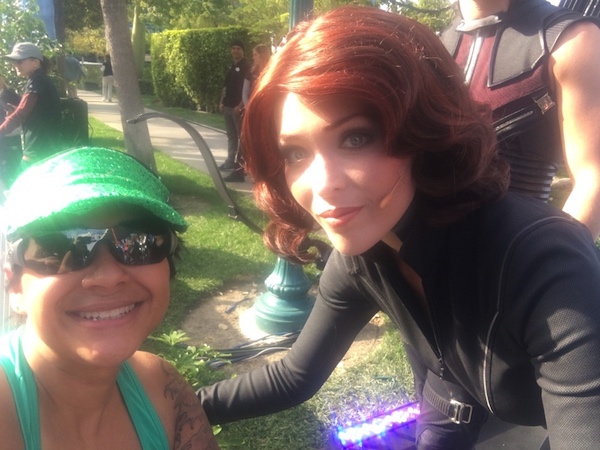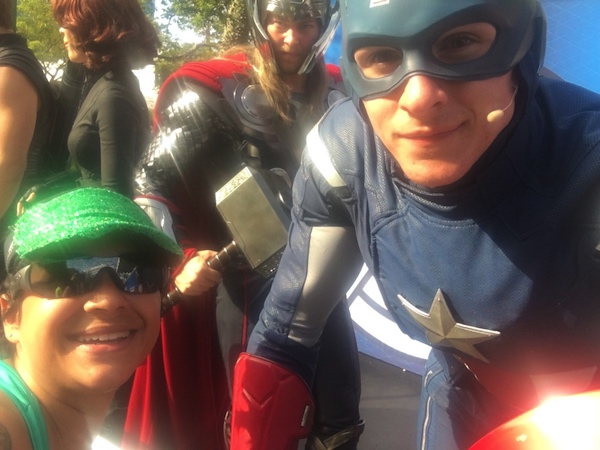 Finally, it was over. I couldn't thank B enough for sticking with me, for calming my anxiety and for 3 hours of great conversation. This race was more like a fun workout with an old friend then it was a half marathon.
I winced my way to the photo area after collecting my challenge medal. That smile is genuine. I was so happy to be finished. The weather was nicer this year as far as the winds go and the in-park portion of the course was fun, but I still don't like this course as much as I love the Tinker Bell Half and Star Wars Half Marathon courses.
Pros: runDisney swag (shirts, medals, snack box), characters, 2.5 miles of in-park running, Angel Stadium, cosplayers
Cons: 10.5 miles of running off park property, that damn trail, price ($199 for the half marathon, $330 for the challenge)
After getting our bling and drinks, B directed me to the medical tent where I was well taken care of. I may have let out an F-bomb or two. I'm so thankful I always wear my trusted CEP Compression socks. Despite the extra time spent on my feet my calves felt phenomenal! I never leave home without them.
After the race, B left to check into the Disneyland Hotel and I walked back to the Hilton. It felt good to be alone for a second because I had been holding back tears of pain and disappointment in myself for about 10 miles. I let it all out pretty fast and hobbled back to the Hilton. I sat like this for what seemed like hours. I needed to pack, I needed to check-out, I needed to go back into the park to buy Christmas gifts and ornaments.
But I couldn't move.
Little did I know that I had yet another Fairy Godmother who would come rescue me. The lovely Jewel of City Stroller Rentals sent me a message asking if I wanted a ride to the airport and I happily accepted.
Somehow I showered and packed and dragged my ass down to the lobby where I enjoyed a cocktail and 3 Advils. When this lovely lady picked me up I could hardly contain my happiness. The Universe puts the right people in your life for a reason. Believe that.
I was at the airport hours before my flight but that was fine with me. I checked my carry-on bag and headed to Javi's for dinner and more cocktails. I wasn't planning on sharing pics of or wearing my medals since I could hardly walk. I see injury as a sign of weakness in myself and I felt as though anyone who saw me limping around with a medal on would think I was weak as well. But the fact of the matter is: I showed up with one possibly jacked up knee and left with two useless knees. Yet I still had a perma-smile glued to my face and completed all 19.3 miles! I even stopped to dance! I appreciate life and the people and blessings that allow me to indulge in running. So I cleared the table, wore that crazy Infinity Gauntlet Challenge medal and showed off my new gangsta lean to everyone in SNA.
Three days after I got home I was able to get an appointment with my primary care physician. Dealing with my HMO has been a complete nightmare and except for a diagnosis of a torn meniscus in each knee - I don't know anything else. I don't know if or when I can get an MRI or if or when I'll get physical therapy. My insurance won't approve anything. I'm disappointed I won't be running any races in December, and praying at the very least that I can walk the Star Wars races in January.
On the other hand, I can honestly say that I had a great race experience in terms of the time spent having fun. Despite starting in Corral C and waiting in 2 character photo lines, using the restroom in the park, stopping multiple times to take non-character photos in the parks, then walking 10 painful miles on 2 useless knees and stopping for more photos and to listening to the bands inside and out of the stadium and getting off course on more than one occasion on the hunt for Biofreeze - I was able to finish. I am happy I pulled it off. From not wanting to run these races, to running the 10K and completing the half injured - I did it, damn it!
Have you ever finished a race despite pain or injury?