D23 & Disney Infinity Maleficent Movie Screening and Review
Last night I attended the D23 Members movie screening of Maleficent. Hosted by Disney Infinity, the movie screening was a unique event where we were also informed of upcoming Disney Infinity 2.0 releases.
After checking in as D23 guests, my friend Christine and I waited in line to be allowed into the theater. We were surprised to not only receive entry into the film, but a voucher for a free small popcorn and drink, a Disney Infinity button and a special gift. Nice! Once in the theater, Disney Infinity Executive Producer John Vignocchi unveiled the new Disney Infinity characters: Maleficent and Merida.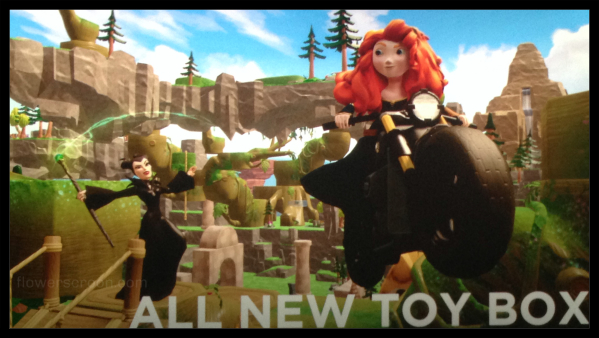 Also announced:
There are 2 new Toy Box Games that come with the Disney Infinity: Marvel Super Heroes starter pack - a Dungeon Crawler game and a Tower Defense game.
2 new Toy Box game discs are coming soon that will be Disney themed. That was a message well-delivered last night: more Disney characters are coming!
After the presentation, the movie began. Watching the movie in IMAX 3D was also an unexpected treat, and we were really excited. Until the audio died. Then the movie restarted with audio and we were excited again. Until we realized we had a music track, but not a voice track. The movie continued to run despite this technical snafu in order for the techs to troubleshoot and repair the issue. In the meantime, I was having fun pretending I was in an episode of my favorite show: Mystery Science Theater 3000. A few others in the audience also chose to participate in the voice over, and a little hilarity happened. A few Snapchats later the movie was repaired and all was right with the world again. After the movie we were given a return voucher (nice touch on the part of A.M.C. for the tech problems) and our gift: a Maleficent Character Development poster, numbered and signed by the artist. Sweet!
My movie reviews have always been brief, and somewhat vague. I refuse to divulge plot details, as I personally never read movie reviews until AFTER I have seen a movie. I want each film I see to be an utterly pure experience, viewed through untainted eyes. I recommend everyone see movies in this manner. In fact, do yourself a favor and stop reading reviews before seeing movies. I promise you that your movie going experiences will be better.
In Disney's 1959 animated classic Sleeping Beauty, the evil Maleficent, with her horned head and green staff, angrily arrives at newborn Princess Aurora's christening and curses the child to death on her 16th birthday. A fairy at the christening lessens the blow of the curse by adding the "true love's first kiss can break the spell" loophole we all know so well. Director Robert Stromberg's Maleficent spins a different tale. A cross between the method in which Wicked humanized the Wicked Witch of the West by telling her backstory, and the Once Upon a Time method of taking full creative liberty with our favorite Disney characters - Maleficent shines as an imaginative stand-alone fairytale.
Watching Angelina Jolie as Maleficent is mesmerizing. She effortlessly illuminates every scene, captivating the audience with her presence. Her grace, ethereal beauty and deep darkness are all at once evil, mysterious and vulnerable. She is stunning, scary and fiercely comedic. A complicated character - Angelina is perfection as Maleficent. One of my favorite scenes, where all of Maleficient's emotions appear on screen at once, also features Angelina's daughter Vivienne Jolie-Pitt. (My friend Christine noticed other little Jolie-Pitt's on screen. Keep an eye out for them.) There is a tenderness in her evil I cannot describe. It's as if Angelina wears her pride as a mother of a six on her sleeve. And, well, she does. In this film, that makes her flawless.
Visually the film is stunning. We had the pleasure of viewing of the film in IMAX 3D which really brought to life the magical, lush, fairytale world filled with sparkle and glowing creatures. Enchanting and absolutely beautiful, the film is delicious to watch. I was absorbed from beginning to end in every intricate, gorgeous detail. The only distraction being Elle Fanning, who is completely upstaged by the scenery and cast.
What is Maleficent? Who is Maleficent? What is Evil? What is True Love? Who is the Hero and who is the Villain? The story could have been told many ways, and while I found this particular tale's ending to be predictable, it was a predictable ending I could live with. An ending I can stand behind.