tinker bell half marathon - chears to your race!
Virtual Tinker Bell Half Marathon Weekend Blog Hop
#VirtualrunDisney
After running 13.1 miles and earning your well deserved medal you will most likely want to celebrate. Typically for me a post-runDisney race celebration is a great meal and a nice cocktail (or four) at one of my favorite Disneyland Resort bars.
I've compiled a list of my top 10 favorite cocktail locations throughout the resort. I know not everyone drinks alcohol - so keep in mind that the locations below also serve non-alcoholic drinks. (In fact, location #1 on my list doesn't even serve alcohol.) Unless otherwise noted, all locations are kid-friendly given children are not seated at the bar counter.
ChEARs!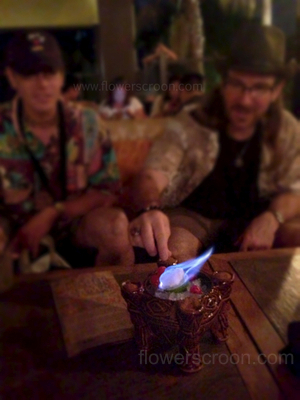 Mint Julep Bar, New Orleans, Square Disneyland: Since the only location inside Disneyland that serves alcohol will be closed for renovations (Club 33) your best bet for a non-alcoholic celebratory drink post-race is the popular Mint Julep Bar. Treat yourself to a Mickey Beignet while you're there!
Carthay Circle Lounge, California Adventure: Classic cocktails (as in beautiful Manhattans), craft beer & wine plus great appetizers. I come for the Vodka martini made with Double Cross vodka and served with an ice sphere. Do yourself a favor - walk in, sit at the bar, order a martini and eat a spicy chicken roll. Tell James Jindy sent you! (But don't sit in my seat!)
Mendocino Terrace at the Golden Vine Winery, California Adventure: Beautiful patio bar location that overlooks the parade route. The wine bar offers wine flights, cheese plates, sodas, beers and juices. The Cast Members at this bar are very knowledgeable about wine. (I love Elizabeth!) It's a great spot to people watch. Or, grab your wine and keep walking.
Alfresco Lounge, California Adventure: The Alfresco Lounge sits right above the Mendocino Terrace patio. Here you can enjoy appetizers and drinks while overlooking Radiator Springs. Bring your friends to celebrate with you and enjoy the view! (Send someone ahead of time to scope out the hours. Sometimes the Lounge is not open.)
Cove Bar, Paradise Pier, California Adventure: The Cove Bar is a really fun place to meet up with friends post-race for cocktails. Super family friendly as well since the non-alcoholic beverages are as creative as the cocktails. The Cove Bar patio, above Ariel's Grotto, faces the launch of California Screamin - so there are great photo opportunities as well. Try the Lobster Nachos and the Magical Star Cocktail so you can take home the glowing ice cube. (The patio does get full, and there can be a wait for a table.)
Mad T Party, Hollywood Land, California Adventure: Inspired by Tim Burton's Alice in Wonderland - this 6:00pm - 10:00pm party is a must when enjoying a cocktail! The music is loud, the live band is great, the street dancers are amazing, the lights are glowing and the cocktails are flowing. Is it kid friendly? Well, honestly it depends on whether or not your child likes loud music and a party atmosphere. My daughter loves it (age 16), her brother loves it (age 10), my niece loves it (age 8), my nephew says it gives him a headache (age 6). The good news: there's an arcade as well if the older kids just want to play video games. For the non-alcoholic drinkers, order a Cheshire Twist. For the drinkers, order a Croque-tini and enjoy another glowing ice cube!
Rita's Baja Blenders, Paradise Pier, California Adventure: If margaritas are your thing, you're in luck! Order a strawberry (frozen) margarita and you're good to go! Non-alcoholic also available. No food, only chips. Make sure you add a shot to your margarita to really give it a kick!
Karl Strauss Beer Truck, Pacific Wharf, California Adventure: You won't find this treasure listed on the Disneyland Resort website, but trust me - it exists - right beside Cocina Cucamonga. It's perfect on a hot day, or for pre-race carb loading or for post-race refreshment! Walk right up to the truck and order your cold freshly poured beer. I LOVE the Red Trolley Ale. $7 for local So Cal beer...perfection! I recommend this location over Bayside Brews at Paradise Pier. (By the way, you can get Tecate and Dos Equis beers at Cocina Cucamonga & Sapporo at Lucky Fortune Cookery. All located in the same Paciic Wharf area.)
Hearthstone Lounge, Grand Californian Hotel: Oh how I love the Hearthstone Lounge. Never mind that I have met celebrities here, sat in the same chair as Johnny Depp (allegedly) and watched championship sporting events while chatting with some of the nicest people I've ever met. Never mind all of that. Order the Two "Mini" Wagyu Sliders and the Iron Horse Fairytale Cuvee Brut and CELEBRATE! You're welcome!
Trader Sam's Enchanted Tiki Bar, Disneyland Hotel: I saved the best for last. Trader Sam's is my magical little trip to paradise. Sit on the terrace and enjoy Hawaiian music in the evenings. Or sit inside and enjoy drinks, food, fun and tropical shenanigans. (Kids are welcome inside until 8:00pm. After that the patio is still family friendly.) Draft beers: Try the Kona or Karl Strauss. Cocktails: I swear by the HippopotoMai-Tai. It's my race night eve cocktail of choice! Or share a dramatic, fiery cocktail made for 2 adventurous souls - the Uh Oa! A must try! Non-alcoholic: Schweitzer Falls. Juice and Sprite. Yum! Food: I love the Ahi Poke dish and the Fish Tacos. Both of those are my go-to choices pre-race as well.
Not mentioned above are the these additional cocktail locations in Downtown Disney: Rainforest Cafe, Tortilla Jo's, Uva Bar, Vodoo Lounge at House of Blues. While still great places to enjoy cocktails, they are not my first choice. I need pixie dust with my martini. ;-)