Inaugural Tinker Bell 10K Race Recap
Officially ranked as my FAVORITE runDisney 10K course - the Inaugural Tinker Bell 10K was a fabulous fun run through Disneyland & Disney's California Adventure.
My race weekend kicked off with the Tinker Bell Half Expo, which was fast, easy and well organized. I arrived at expo Thursday afternoon, and although there were people in line for New Balance shoes and Dooney purses, I did not experience the massive crowds, lines or wait times many experienced at the Disneyland Half Marathon Expo last September. In fact, everything was so calm that lovely Victoria was able to find me in the crowd and we enjoyed the expo together. It was not only wonderful to see her, but also to see Jeff Galloway again! (View the gallery below for a few Expo shots.)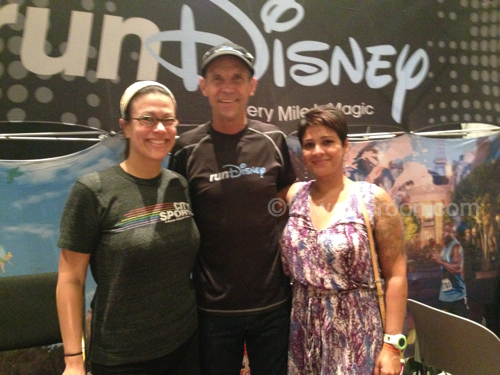 With the expo being so easy, I was able to spend the rest of my afternoon in the parks as I waited for my friends to arrive later that evening. And, with my purple #TeamSparkle skirt and wings combo, my Vidia costume was ready! Bring on the 10K!
Saturday morning arrived, and I made the short walk from the Hilton to the start line in no time at all. Before I knew it - it was ready, set, GO!
We headed straight into the backstage area of the parks. I always love seeing parade floats up close.
We came into Disneyland via the corridor behind It's a Small World - which happened to still be wearing its Christmas lights. Soon we were a mile into the race and I wondered why there were no fairies on the course. As we approached the Haunted Mansion, I noticed a line. A line at the Haunted Mansion during a Disneyland race was something I'd never seen; so I knew this would be special. And it was. Holy cow. Both the the bride and the parasol tightrope walker characters were there! A freak out session immediately ensued. This is my FAVORITE attraction, and the portrait of the parasol girl on the tight rope, (actually titled Tightrope Walker, original concept artwork by Marc Davis), is on my list as my next tattoo. Clearly I was overjoyed. (Because I am a nerd, yes, but that's not the point.)
Next, we ran towards Fantasyland, where more wonderful characters awaited. Absolute best character stops so far.
Let's not forget our friends over at Tomorrowland.
Castle shot as we head back towards Main Street.
As we ran away from the castle on our way out of Disneyland, I turned around for a last shot of my home castle. Before reaching the turnstiles I stopped for a couple more photos inside my favorite Disney park.
Entering Disney's California Adventure: I believe this is when you heard me singing "the world is a carousel of COLOR..."
Speaking of carousel and screaming...
Running through Paradise Pier is my favorite! It's so picturesque.
From Paradise Pier to Cars Land. This course is still winning!
Before we left the park, one last character stop. Recognize these monsters?
Once outside of the parks, you can always count on spectators to make you laugh.
I had hoped to meet the real Vidia during this race, but the mile 6 marker was pretty cool.
Finish line inspiration. Love this wall!
Finished! I received my medal and headed over to the snack tent to say hello to my beautiful friend Nicole - the best VoluntEAR ever!
On my way back to the hotel I ran into Kelly, who I see at the ALL races, but I never remember to snap a photo of us together. Always nice to see her, and especially nice to be able to chat with her since she is always working so hard at the expo!
What a fun race and a sweet way to kick off Tinker Bell Half Marathon Weekend! The course was truly a major improvement over the Disneyland 10K course, the weather was perfect, and the addition of never-before-seen Haunted Mansion characters made this race my favorite runDisney race to date! And of course, as with every race at the Disneyland Resort, I was showered and back at the parks with minutes of finishing.
Did you run the Tinker Bell 10K? What were your thoughts? Feel free to share any links to your recaps below!